At Lesdrevmash Valutec gives you the opportunity to experience our state-of-the-art TC Kiln in Virtual Reality. A truly fascinating experience.
TC is a Swedish abbreviation for "cross circulation", and the TC-kilns have fast become the most talked about type of kilns in Europe. This is due to its distinguishing features and special construction, which results in high flexibility in mixing dimensions, perfect quality and superior capacity.
"It's a machine that has drawn a lot of interest and that provides benefits for many types of sawmills," says Timo Kanerva, general director of LLC Valutec. "Together with our control system, it's very intuitive and easy to use. We have made sure to automatize a lot of features so that the kiln operator can focus on managing the drying process as a whole."
Valutec is firmly established as the supplier, which, over time, has invested the most in research and development of lumber kilns and control systems. The TC continuous kiln is no exception:
"Thousands upon thousands of hours have been invested in the development effort underlying this leap in technology. We have studied, evaluated, tested and reinvented all parts of the TC continuous kiln, which first started being used already in 1927. It is truly motivating to see how it all has paid off, confirming that we are on the right path," says Timo.
Six years ago, the first next-generation TC continuous kilns were installed at SCA Bollsta, just outside the town of Kramfors in Sweden. The advanced climate control system enables sawmills to freely select the dimensions of the wood to be dried, which has been a huge success in this industry, resulting in many new customers and agreements for Valutec over the last few years. During the past 12 months, kilns manufactured by Valutec have been installed or sold to customers throughout Europe, North America and Russia. Many leading sawmill groups are customers of Valutec, the largest of which is the German company, Holzwerke Ladenburger, with a total annual production of over 800,000 cubic meters.
"The leap in technology has fundamentally changed the way of working at many sawmills. Higher flexibility creates significant advantages, particularly when it comes to planning. Competition is extremely tough in the sawmill business, where margins are tight. So customers in this sector rely on high efficiency and quality," says Timo.
Earlier this year Valutec commissioned its first TC Kiln in Russia at Luzales sawmill in the Republic of Komi.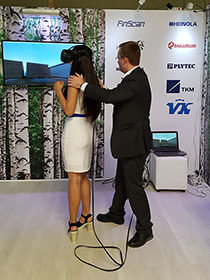 "We evaluated several suppliers and in the end it was an easy choice. It was important for us that there were good recommendations from other sawmills using the technology," says Ruslan Semenyuk, commercial director at Luzales.
Developed with the tough Scandinavian climate in mind, Valutec is renowned for building robust and solid kilns in stainless steel. This includes well-dimensioned coils, fans and exhaust systems. "We don't put a nut or bolt in there that isn't needed, but we build kilns to last for decades," says Timo.
Valutec will also demo its' State-of-the-art control system "Valmatics" during the events.
Valmatics is the only modern kiln control system with an integrated simulator that helps you optimize the drying process with perfect balance between energy, quality and capacity to find the optimal production flow.
Visit Valutec at Stand No.23C30
---