08 / 10 / 2018
Hakki Pilke Introduces Firewood Processors to Russian Market at Lesdrevmash 2018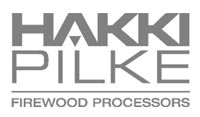 Hakki Pilke firewood processors are built in Haapajärvi, Finland with over 30 years' experience. Every year thousands of machines are shipped to six continents around the world. Customers are using the products in varying conditions but mainly for producing firewood professionally for sale. For a manufacturer it is a challenge to fulfill different customer needs with the product, which is why Maaselän Kone listens international Hakki Pilke users and dealers carefully in order to understand the market needs and challenges. All product development is based on customer feedback and extensive testing. Testing is done in close collaboration between the factory, importers and experienced customers.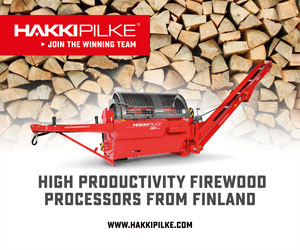 The latest model in the lineup, 43 Pro, is designed for professional wood processing. It is a successor of very popular and globally well-known model Easy 42. Most of the inventions and new features of the new model derive from the requests and suggestions made by Hakki Pilke users. Hakki Pilke distributors were already involved in early prototype testing phase to help the factory to find the right direction in the project. Maaselän Kone finds this kind of close collaboration highly rewarding and successful.
New Key Features Requested by International Customers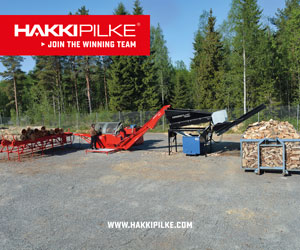 Hakki Pilke 43 Pro raises the bar for firewood processing by many of the world's first features such as the new cutting mechanism only seen before in forestry harvesters and the delay-free splitting system designed to make processing as effective with both small and big sized logs. "After comprehensive testing in 6 different countries and over 20.000 cubic meters (5.500 cords) of hardwood and softwood species processed, we have developed many long-awaited solutions for international Hakki Pilke users. New ergonomically designed interface and other features such as log landing plates, automatic log infeeding and the patented AC 10 automatic saw chain tensioner are all solutions for the industry's existing problems," says Timo Jussila, Development Manager, Maaselän Kone Ltd.
LOG LANDING PLATES
The log landing plates ensure that the logs land into the splitting section in a controlled manner. Landing plates can be used in automatic or manual mode. Manual operation enables the controlled dropping of the last piece of log.
HYDRAULIC AC10 – Saw chain tensioner
The AC10 maintains optimal chain tension, preventing it from coming loose or breaking. The correct chain tension doubles the lifetime of the chain and bar. The chain can be replaced effortlessly without any tools.
About Maaselän Kone Ltd
Hakki Pilke has sold over 30,000 units in over 35 countries. In the 1990s, model 1X37 revolutionized the firewood industry becoming the world's most sold firewood processor. Today the Hakki Pilke brand is known for its excellent after-sales services and state of the art performance and reliability. Easy mobility and fast set up makes Hakki Pilke processors great for both indoor and outdoor use. Read more at www.hakkipilke.com
Hakki Pilke can be found at Lesdrevmash outside booth 3-1. For more information contact jori.myllari@hakkipilke.fi

print version
News subscription