B. MAIER ZERKLEINERUNGSTECHNIK GMBH DIEFFENBACHER GROUP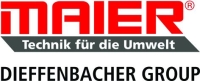 Phone: +49 (521) 584943-20
Address: Schweriner Strasse 1, D-33605 Bielefeld, Germany
E-mail: mzb@dieffenbacher.de
Web: http://www.maier-dieffenbacher.de
Country: Germany
MAIER develop, manufacture and supplies solutions for the processing of wood in PB, OSB, MDF, Wood-pelletizing and WPC, as well as for recycling and biomass industry.
BAIKAL-FOREST, LLC
Phone: +7 (950) 088-3888
Address: 5, Mira Str., 665385, Zima, Irkutsk Region, Russia
E-mail: lps38@yandex.ru
Web: http://www.baikal-forest.ru
Country: Russia
One of the largest logging and timber processing companies in the Siberian region. Volume of harvesting and processing more than 590 000 m³ of timber per year.
BAKAUT, LTD.
Phone: +7 (8162) 64-32-67
Address: 7, Luzhskoe Shosse, 173008, Velikiy Novgorod, Russia
E-mail: stanok@bakaut-vn.ru
Web: http://www.bakaut-vn.ru
Country: Russia
The woodworking equipment of Bakaut Ltd. has deserved an appreciation among professionals and represents a worthy competition to the European analogs.
BALJER & ZEMBROD GMBH & CO. KG
Phone: +49 (172) 718-62-65
Address: Max-Planck-Str. 8, 88361 Altshausen, Germany
E-mail: morosova@baljer.ru
Web: http://www.bz.ag
Country: Germany
Complete timber yard mechanisation for sawmills: round wood sorting and transporting carriages, round wood handling carriages, portal cranes, head-stock and rotor debarkers, root reducers, sorting ...
BALTKOTLOMASH
Phone: +7 (812) 320-9079 / 78
Address: 57, Sedova Str., 192171, Saint Petersburg, Russia
E-mail: bkm@bkm-spb.ru
Web: http://www.bkm-spb.ru
Country: Russia
Production of industrial mechanized water-heating boilers using fossil fuels and relevant boiler equipment. Construction of boiler-houses on a turn-key basis using any kind of fuels.
BARBERAN S.A.
Phone: +34 (93) 635-0810
Address: Polígono Industrial "Camí Ral", Calle Galileo, 3—9, 08860 Castelldefels (Barcelona), Spain
E-mail: barberan@barberan.com
Web: http://www.barberan.com
Country: Spain
Barberan S.A. is a leader in wrapping, laminating, lacquering and printing systems, including new high gloss and digital printing technologies for panels and automatic tool change system in wrapping.
BASCHILD S.R.L.
Phone: +39 (035) 201-340
Address: Via degli Assini 14 / 16 / 18, 24048 Treviolo (BG), Italy
E-mail: info@baschild.com
Web: http://www.baschild.com
Country: Italy
Baschild provides 4 product lines: drying kilns (traditional or with tunnel loading), pre-drying kilns, high temperature kilns for wood thermo modification and steaming chambers (direct or indirect).
BAU MASTER
Phone: +7 (4822) 44-12-93, 44-18-37
Address: 27, Avangardnaya Str., 170027, Tver, Russia
E-mail: trade@bau-master.ru
Web: http://www.bau-master.ru
Country: Russia
BAU Master Company is a manufacturer of narrow and wide band saws, as well as a representative of BANSO, WESPA, PARITET companies.
BAUTEX HANDELS GMBH
Phone: +49 (5221) 919370
Address: In der Masch 20, 32049 Herford, Germany
E-mail: bautex.gmbh@t-online.de
Web: http://www.bautex.net
Country: Germany
The woodworking equipment: lines and plants of woodworking, wood fashioning, manufacturing of furniture, housing constructions and windor a door manufacturing.
BEIJING YINQICHENG INTERNATIONAL EXHIBITION CO., LTD
Address: China
E-mail: 139218@expocentr.ru
Country: China

BELTIMPEX TPK, LTD.

Phone: +7 (495) 221-0649, 411-9146
Address: Office 202, Bldg. 1, 3, Krasnaya Sosna Str., 129337, Moscow, Russia
E-mail: info@beltmarket.ru, info@beltimpex.ru
Web: http://www.beltmarket.ru
Country: Russia
Production and supply of conveyor belts (PVC, fabric, rubber), driving, segmented, broaching and flat belts, pulleys, bearings, chains, nets (metallic), bands and nets made of PTFE and silicone, ...
BERNDORF BAND GMBH
Address: Austria
E-mail: 139229@expocentr.ru
Web: http://www.berndorf-band.at
Country: Austria

BESTAR STAHLHANDELSGES. REMSCHEID MBH
Phone: +49 (2191) 3642-0
Address: Auf dem Knapp 43, 42855 Remscheid, Germany
E-mail: info.de@bestar-steel.com
Web: http://www.bestar-steel.com
Country: Germany
BESTAR is the Steel Service Center for manufacturers of industrial saw blades and knives with operations in Germany and the US as well as other locations worldwide.
BIELE, S.A.

Phone: +34 (943) 15-70-50
Address: Larrañaga Industrialdea 1, 20738 Urrestilla (Azpeitia), Spain
E-mail: biele@biele.com
Web: http://www.biele.com
Country: Spain
The Biele Wood division specialize in the design and manufacture of automation solutions for industrial wood processes. From the initial manufacturing process for panels and boards and their ...
BIESSE SPA
Phone: +39 (0721) 439100
Address: Via della Meccanica, 61122 Pesaro (PU), Italy
E-mail: biesse.sales@biesse.com
Web: http://www.biesse.com
Country: Italy
Biesse is the Group's business unit specialising in the woodworking segment. Since 1969, it has designed, manufactured and marketed a comprehensive range of technologies and solutions for ...
BINOS GMBH
Phone: +49 (5041) 993-0
Address: Industriestrasse 17c, 31832 Springe, Germany
E-mail: info@binos.de
Web: http://www.binos.de
Country: Germany
BINOS is a globally active company which develops, plans, manufactures and puts into operation machine components, single machines and complete turnkey manufacturing plants for the wood industry.
BLAUM, LLC
Phone: 8 800 555 6783
Address: Office 23-05, 2, Volokolamskoe Shosse, 125080, Moscow, Russia
E-mail: info@pcdtools.ru
Web: http://www.pcdtools.ru
Country: Russia
BLAUM company is a supplier of woodworking tools for the treatment of plate materials and the array. Warehouse program, making the order in the shortest and service tools.
BOROVICHSKY PLANT OF WOODWORKING MACHINERY, LTD.
Phone: +7 (81664) 4-65-65 / 99, (921) 191-8179
Address: 12, Okulovskaya Str., 174411, Borovichi, Novgorod Region, Russia
E-mail: bzds@sovintel.ru
Country: Russia
The enterprise covers the following areas of activities: manufacture and sales of four-side planer type milling machines. Efficient and professional post-sales servicing, start-up and ...
BOTTENE SRL
Phone: +39 (0445) 500159
Address: Via Emilia Romagna 24, 36015 Schio (VI), Italy
E-mail: bottene@bottene.it
Web: http://www.bottene.it
Country: Italy
Producer of cross cut lines for board and big board for sawmills, scanners for material vision, automation systems to lead and unloading, finger joint lines for beam and panel.
BRUKS KLÖCKNER GMBH
Phone: +49 (2661) 28-163
Address: Grabenstrasse 1, 57647 Hirtscheid, Germany
E-mail: info.de@bruks.com
Web: http://www.bruks.com
Country: Germany
The BRUKS Group is a global supplier of complete systems for wood-processing, bulk materials handling and bio-energy, a holder of many international patents and trademarks, a recognized leader in ...